Millie-Christine McCoy the Two-headed Nightingale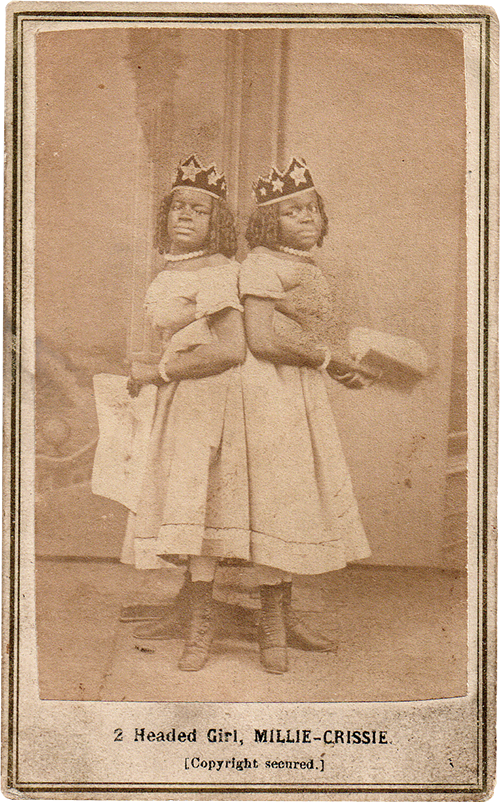 The conjoined twins, Millie and Christine were born into slavery in 1851. Their family referred to the girls in the singular, calling her
Sister
. The girls continued this tradition, referring to themselves as one, using the name Millie-Christine. Due to her unique physique, she was very valuable as an attraction and as a result was sold to a variety of owners, at one point stolen by a swindler from Texas. At age two, she fetched a sale price of $10,000 or $30,000 depending on whom you believe.
At age 4 she was taken to Liverpool and while in Europe, slavery was abolished, the net result being she became a free woman. Millie-Christine was brought back to the States by Joseph Smith. Smith and his wife, seeing how bright she was, taught her to sing, dance, read, and write.
When Smith died in 1862, the appraisers of his estate valued the girl at $25,000 and the rest of his household goods at $5,190.
Upon the end of the Civil War, the girl took it upon herself to support their family and the widow of their last owner. Millie-Christine was 14 at the time. She continued to travel throughout Europe and the US at one point meeting with Queen Victoria and the Princess of Wales.
In 1880 she organized the School for Welches Creek African American Children.